How to break into international development
One more in a series of great advice on how to work on development.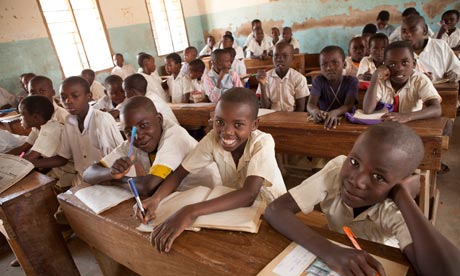 A master's in development isn't going to guarantee you the top jobs, understanding the specific area you want to work in is essential and you shouldn't sniff at entry-level admin positions. 
Reshna Radiven is volunteer marketing manager for VSO, a development charity that sends volunteers to work abroad
A speculative approach can land you an internship – but make sure you stand out from the crowd: For anyone that is looking for an internship with an international development NGO, I would suggest you decide on the specific function that you want to work in and then make a speculative approach. We are inundated with speculative approaches, so make yourself stand out by having done your research on the organisation and by tailoring your approach. However, we are also always looking for people who are able to support us by offering their time – so we welcome serious approaches.
VSO offers overseas and UK-based volunteering experience: If you're interested in volunteering in the UK and overseas – and have six months to spare – check out VSO's Global Xchange programme. It's a six month volunteering programme which involves community development work in the UK and three months community development work in an exchange country. No previous experience of development is necessary, just the willingness to commit to the programme and get involved. One of my team volunteered on this programme and five years later is now working at VSO.
Starting at the bottom can lead to bigger and better things: The international development sector is a hard one to break into. Disheartening though it may be, it could work to your advantage to take on an entry-level administrative position. At VSO people who come in at this level and perform well often move into other better paid and more senior positions. I am sure this is quite similar to what happens in other organisations too. The other alternative is to build your career in a specific field and then move into the development sector at a later date. For example, I built my experience in marketing in various sectors (publishing, technology, financial services) before looking for a marketing job in the international development sector.
Pauliina Keinanen is recruitment and training coordinator at Skillshare International, an international volunteering and development organisation
Development qualifications are often not enough to secure you a job: My personal experience is that development courses are helpful in increasing the knowledge of the student – but international development is such a huge sector, one course will not qualify you for a wide range of paid jobs. If I had to name a course which is a guaranteed stepping stone towards paid work in development, I supposed I would name something quite obvious like medicine. There is always a high demand for medics, as you can imagine. I haven't come across development qualifications which instantly stand out from the rest.
Beth Goodey is international placements coordinator for Restless Development, an international development agency
Find out what you are interested in first – then tailor your skillset accordingly: I would advise you to think about which area of development you are particularly interested in. Getting some overseas voluntary experience can give you exposure to a variety of areas of development work and help you to decide what aspect you are most interested in and best suited to. This can then help you to decide on which master's should you decide to continue studying. The key is to try and identify what area of development you want to work in and to then build up your experience (academic or professional) in that area.
Use your time at university to boost your CV with the skills employers want to see: As a reasonably recent graduate myself, I definitely found the extracurricular activities I did outside of my studies at university really helped build up my CV. Universities have a real variety of societies to get involved with including many that are development-related, for example the Student Stop AIDS Campaign which is coordinated by Restless Development. Getting involved in societies provides opportunities to develop a wide range of skills including events management, campaigning, communications, finance and fundraising – and also provides opportunities to learn about development issues by attending talks, debates, film screenings and so on. If you have time, volunteering for a local charity or organisation over your three years at university also adds to your work experience on your CV – perhaps try to tailor it to the area you might like to look for a job in once you graduate.
Katherine Tubb is director of 2Way Development, a UK-based organisation that places volunteers into development NGOs in Africa, Latin America and Asia
Make the most of overseas experience by matching it to your career plans: The whole point of overseas experience is you get a knowledge of the practicalities of working in the sector and a contextual knowledge, which is imperative for programmes based working in the UK. You have to make sure your overseas experience is relevant to your skills and long term goals – this way you will get a worthwhile experience for your future and it will be a good investment of your time and money. Seeing a careers adviser before deciding what type of overseas experience is right for you might be a good idea – or applying for those jobs you would like afterwards and talking to recruiters, even if you only get an interview at this stage. A good web site is Volunteering Options.
Having a master's in development isn't going to guarantee you the top jobs: I would be very careful jumping right into a master's programme before looking at jobs and getting a sense of where you want to specialise. I find that employers tend to like more specific master's qualifications. Certainly having a master's in development isn't going to guarantee you the top jobs. I would recommend getting some experience first, in the UK or overseas, and then making this kind of decision as it will be a huge investment of time and money.
Kevin Cusack is director of World Service Enquiry, which provides information about careers in international development and aid
Consider the skills you have to offer an employer: Generally, NGOs need relevant work experience (read: SKILLS) and some specialist knowledge for the job. If you are considering a change, I suggest you look at the current jobs and see what you have, and also what you lack, in experience. This might help you make an informed decision about what to do next.
Source: http://careers.theguardian.com/best-of-international-development
Related:
What Recruiters really look for?
Can graduate school help you find a job in international development?