The importance of "Yes"!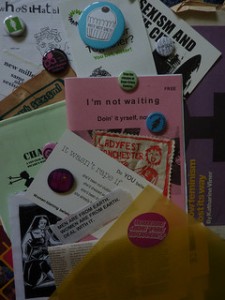 So, for those of you who are following Women's issues discussions on twitter yesterday was the Tweetathon (is that even a word? Well, you get what I'm saying…) #RingtheBell and #NomeansNo. Reinforcing that we live in a society that not only condones rape, but in many contexts, actively promotes it and we should not stand for it. And what I want to start discussing, at least on this post, even if it is to myself, is how to flip this to empower women about their sexual choices in order to create more healthy and equal relationships with sex and ourselves. In an ideal scenario, fostering sex-positive views would allow women and men to be more open to their needs as well as not feel the need to rush into something they are not ready to.
First things first, people have the right to stop unwanted sexual advances and under NO circumstance it's the victims fault when they are sexually assaulted. (1) I mean… If you don't agree with that, I don't know what you are doing on this page, but I'm sure there is a plethora of knowledge here and in many other websites that will explain to you why violent crimes are not justifiable and the damage it causes to someone's psyche and self-steam. Well, back to "No means No"… The premise of the campaign is in any given possibly romantic situation, if one of the involved is uncomfortable or doesn't feel ready and says "no", it's their partner's obligation to listen and stop. And although I feel that is an incredibly worthy plight to have, I do feel that we have to take the issue further than just teaching mainly men to listen to "no". We should take a step further and empower women to say "yes". The idea is let women take charge of their own bodies, as well as encouraging sexual partners to work a little bit harder to understand the other's need by getting them to express explicit consent. To sum it up, because somebody is not saying no, it doesn't mean they are saying yes. So, ideally, you should not strive for not listening to no, but for hearing a yes.
Mostly, the problem in just focussing on the "No" is that, in many cases, reinforces the gender stereotype of sexed crazed men, women as gatekeepers of something that inherently belongs to men or that women are not in charge and in tune with their own sexual desires. By fostering a culture of explicit consent and sex-positive views we can not only fight back a lot of the stigmas that prevent survivors of reporting their abuse, but also have more healthy relationships in general with sexual partners and our own bodies. Rape is about power relations, not sex drives, but it takes form in a sexual way and it's allowed to be perpetuated because we live in a society that values the sexual pleasure of men while objectifies the bodies of women. Women are hardly portrayed as agents of their own sexual desires and when that happens, there is usually a negative connotation attached to it. Choosing to be sexually active or not should be one's choice. Women and girls shouldn't be peer pressure into sex before they feel they are ready to or feel like they have to "save" themselves for someone when they should be the only owners of their sexuality.
The importance of starting to focus on being able to say "Yes" as well as listening to the "No" is an important step to create a more sex-positive culture that would embrace women's choices and sexuality with no fear of violence, oppression or shaming because they are being who they are.
(1) It's important to highlight that Sexual Violence it's not a Women's only issue: children – boys and girls – and male inmates have also significant victimization rates. In this case, I'm targeting rape in a mostly Intimate Partner Violence context, so although it has a lot of relations with Rape as a weapon of War, I'm not dealing with rape as War tactic or ethnic cleansing mechanism.
Published originally at World Pulse on 3 May 2013.